Severely Burned Arizona Police Officer
Awarded Settlement
Schechterle v. Ford Motor Company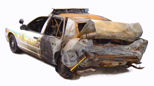 On March 26, 2001, Officer Jason Schechterle of Phoenix, Arizona responded to an emergency call when his Crown Victoria Police Interceptor (CVPI) was struck from behind. Upon impact, the cruiser erupted in a fireball trapping Officer Schechterle. He suffered burns to more than 40% of his body, particularly his face and torso. He has since undergone more than 100 surgical procedures.
Perry & Haas settled this personal injury lawsuit against the Ford Motor Company for the gas tank design defects of the Crown Victoria Police Car on behalf of Officer Jason Schechterle.
In addition, Perry & Haas has settled seven major cases around the country regarding the Crown Victoria: Juan Cruz (Arizona Highway Patrol), Skip Fink (Arizona Highway Patrol), Deputy Steven Agner, Lake County, Florida, Juan Rivera (Massachusetts), Deputy Jeff Davis, Columbia County, Florida, Officer Patrick Metzler, City of Dallas, Texas, and Officer Jason Schechterle, City of Phoenix, Arizona.
For the latest news and information on this important case, GO TO THE CVPI WEBSITE >


STRENGTH. INTEGRITY. EXPERTISE.

Perry & Haas does not offer any guarantee of case results.
Past success in litigation does not guarantee success in any new or future lawsuit.
Our web site describes some of the cases that the attorneys of Perry & Haas have worked on in the past.

Our description of those cases is summary in nature.

You should be aware that the results obtained in each of the cases we have worked on was dependent on the particular facts of each case. The results of other cases will differ based on the different facts involved.